Real-life stories from real people taking INGREZZA
Real results you can see from the only once-daily treatment
specifically designed for adults with tardive dyskinesia (TD)

.
"Since starting on INGREZZA, my body movements have gotten a lot better. I feel much more confident…My family and friends have noticed a change, too."
— Steve, living with bipolar disorder and tardive dyskinesia
Steve was compensated by Neurocrine Biosciences, Inc. to share his story
"I have an easier time engaging in personal conversations with family and friends now that my TD symptoms have reduced. I can look people in the eyes again without being afraid my involuntary movements will be a distraction."
Individual results may vary
— Bethany, living with schizophrenia and tardive dyskinesia
Bethany was compensated by Neurocrine Biosciences, Inc. to share her story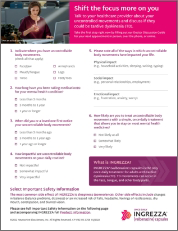 Ready to talk to your healthcare provider about your TD movements? Our discussion guide can help.
Fill out our Doctor Discussion Guide questionnaire and bring it to your next appointment to help you and your healthcare provider have a better conversation about TD and INGREZZA.
Ready to talk about tardive dyskinesia (TD) treatment? Find a specialist.
Whether your uncontrollable body movements are mild, moderate, or severe, connecting with a psychiatry or neurology healthcare provider who may be able to help you diagnose and treat TD is important.
Enter your ZIP code to find a specialist near you and ask about INGREZZA.a
Not an
actual patient
Neurocrine Biosciences, Inc. is providing this service to help patients find healthcare professionals in their area who have experience with tardive dyskinesia (TD).
No fees have been received by or paid to healthcare professionals for inclusion in this locator directory. Inclusion of a healthcare professional in this directory does not represent an endorsement by or a recommendation from Neurocrine Biosciences, nor does it imply that the healthcare professional on the list will determine that a Neurocrine Biosciences product is right for you. Neurocrine Biosciences makes no warranty as to the credentials, skill, or outcomes of the listed professional.
Information posted to this site is provided for educational and informational purposes only. You are ultimately responsible for the selection of a healthcare professional and it is an important decision that you should consider carefully. This healthcare professional locator tool is just one source of information available to you.
Learn how INGREZZA can help uncontrollable TD movements.
See results