The cause of tardive dyskinesia (TD) and how INGREZZA works
Some medicines for mental health can cause abnormal signaling in the brain, which can lead to uncontrollable body movements from TD that don't go away on their own for most people.
Though how it works isn't fully understood, INGREZZA® (valbenazine) capsules is thought to reduce extra dopamine signaling while working directly in the region of the brain that causes the uncontrollable movements of TD.
INGREZZA is believed to reduce extra dopamine signaling
Dopamine is a chemical in the brain that helps control movement
TD may be caused by too much dopamine signaling in the brain
Untreated body movements from TD can affect your work, social outings, and daily activities.
TD movements could also impact your mental well-being.
Marilyn was compensated by Neurocrine
Biosciences, Inc. to share her story
INGREZZA can quickly and effectively treat mild, moderate, and severe TD movements.
In a clinical study, many people on INGREZZA started to see improvements at 2 weeks with clinical results at 6 weeks.
Specifically designed to treat TD. Proven to reduce uncontrollable body movements.
Not an
actual patient
7/10
patients in a clinical study saw reduction in TD movements at 6 weeks with INGREZZA 80 mg.
In a clinical study, 7 out of 10 people taking INGREZZA 80 mg saw improvements in TD movements at 6 weeks—and many started to see results as soon as 2 weeks.
Patients had at least a 1-point reduction on an uncontrollable movement severity scale at 6 weeks vs before treatment.
This post-clinical study evaluation included 70 patients taking INGREZZA 80 mg, measuring uncontrollable movements before starting treatment and at 6 weeks of treatment.
For people who participated in the clinical study, INGREZZA provided continued reduction in uncontrollable movements throughout the duration of the 48-week study.
Did you know?
Treatment is usually the only way to reduce uncontrollable body movements from TD. INGREZZA is designed to treat TD.
Learn more about the INGREZZA clinical study
This study measured the difference in people's uncontrollable movements at 6 weeks, 48 weeks, and at certain times in between. Participants had moderate to severe TD and schizophrenia, schizoaffective disorder, or mood disorder.
INGREZZA side effects
In a clinical study, some side effects were experienced while taking INGREZZA. The most common side effect was sleepiness.
INGREZZA may cause serious side effects, including:
Sleepiness
Heart rhythm problems
Abnormal movements, including shaking, body stiffness, trouble moving or walking, or keeping your balance
Other side effects include:
Changes in balance (balance problems, dizziness) or increased risk of falls
Headache
Feelings of restlessness
Dry mouth
Constipation
Blurred vision
These are not all of the possible side effects of INGREZZA.
If you experience side effects, call your healthcare provider for medical advice. To report side effects to the FDA, call 1-800-FDA-1800.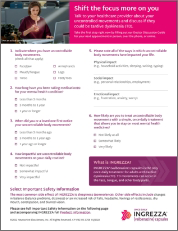 Ready to talk to your healthcare provider about your TD movements? Our discussion guide can help.
Fill out our Doctor Discussion Guide questionnaire and bring it to your next appointment to help you and your healthcare provider have a better conversation about TD and INGREZZA.
Ready to talk about tardive dyskinesia (TD) treatment? Find a specialist.
Whether your uncontrollable body movements are mild, moderate, or severe, connecting with a psychiatry or neurology healthcare provider who may be able to help you diagnose and treat TD is important.
Enter your ZIP code to find a specialist near you and ask about INGREZZA.a
Not an
actual patient
Neurocrine Biosciences, Inc. is providing this service to help patients find healthcare professionals in their area who have experience with tardive dyskinesia (TD).
No fees have been received by or paid to healthcare professionals for inclusion in this locator directory. Inclusion of a healthcare professional in this directory does not represent an endorsement by or a recommendation from Neurocrine Biosciences, nor does it imply that the healthcare professional on the list will determine that a Neurocrine Biosciences product is right for you. Neurocrine Biosciences makes no warranty as to the credentials, skill, or outcomes of the listed professional.
Information posted to this site is provided for educational and informational purposes only. You are ultimately responsible for the selection of a healthcare professional and it is an important decision that you should consider carefully. This healthcare professional locator tool is just one source of information available to you.
See how INGREZZA made a difference in people's lives.
Watch real TD stories
Bethany was compensated by Neurocrine Biosciences, Inc. to share her story