Welcome to the INBRACE® Support Program
Welcome to the INBRACE® Support Program
Find information about financial assistance options to help you pay for INGREZZA and learn about a free trial program available to new patients so you can get started on your treatment journey.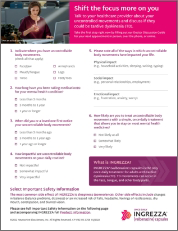 Looking for help talking to your healthcare provider about your TD movements? View our discussion guide.
You can use our discussion guide to have a more productive conversation with your healthcare provider about tardive dyskinesia (TD) and INGREZZA. Ask your healthcare provider about staying on your current dose of most mental health medicines while treating your TD.
Ready to start a conversation about TD treatment? Find a specialist.
Whether your uncontrollable body movements are mild, moderate, or severe, connecting with a psychiatry or neurology healthcare provider who has experience diagnosing and treating TD is important.
Enter your ZIP code to find a specialist near you and ask about reducing TD movements with INGREZZA—the only once‑daily treatment for TD.a
Neurocrine Biosciences, Inc. is providing this service to help patients find healthcare professionals in their area who have experience with tardive dyskinesia (TD).
No fees have been received by or paid to healthcare professionals for inclusion in this locator directory. Inclusion of a healthcare professional in this directory does not represent an endorsement by or a recommendation from Neurocrine Biosciences, nor does it imply that the healthcare professional on the list will determine that a Neurocrine Biosciences product is right for you. Neurocrine Biosciences makes no warranty as to the credentials, skill, or outcomes of the listed professional.
Information posted to this site is provided for educational and informational purposes only. You are ultimately responsible for the selection of a healthcare professional and it is an important decision that you should consider carefully. This healthcare professional locator tool is just one source of information available to you.
Get additional resources for your treatment journey.
See resources