aNeurocrine Biosciences, Inc. is providing this service to help patients find healthcare professionals in their area who have experience with tardive dyskinesia (TD).
Information posted to this site is provided for educational and informational purposes only. You are ultimately responsible for the selection of a healthcare professional and it is an important decision that you should consider carefully. This healthcare professional locator tool is just one source of information available to you.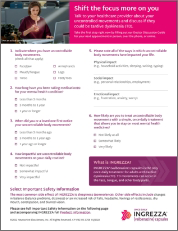 Looking for help talking to your healthcare provider about your TD movements? View our discussion guide.
You can use our discussion guide to have a more productive conversation with your healthcare provider about tardive dyskinesia (TD) and INGREZZA. Ask your healthcare provider about staying on your current dose of most mental health medicines while treating your TD.