Actor portrayal
Help and information for those living with or caring for someone with HD chorea
Jump to content on this page:
---
Treatment resources
The following resources are available to help you along your journey and to discuss with your healthcare provider.
INGREZZA Patient Treatment Brochure
Learn about Huntington's disease (HD) chorea and how INGREZZA may help.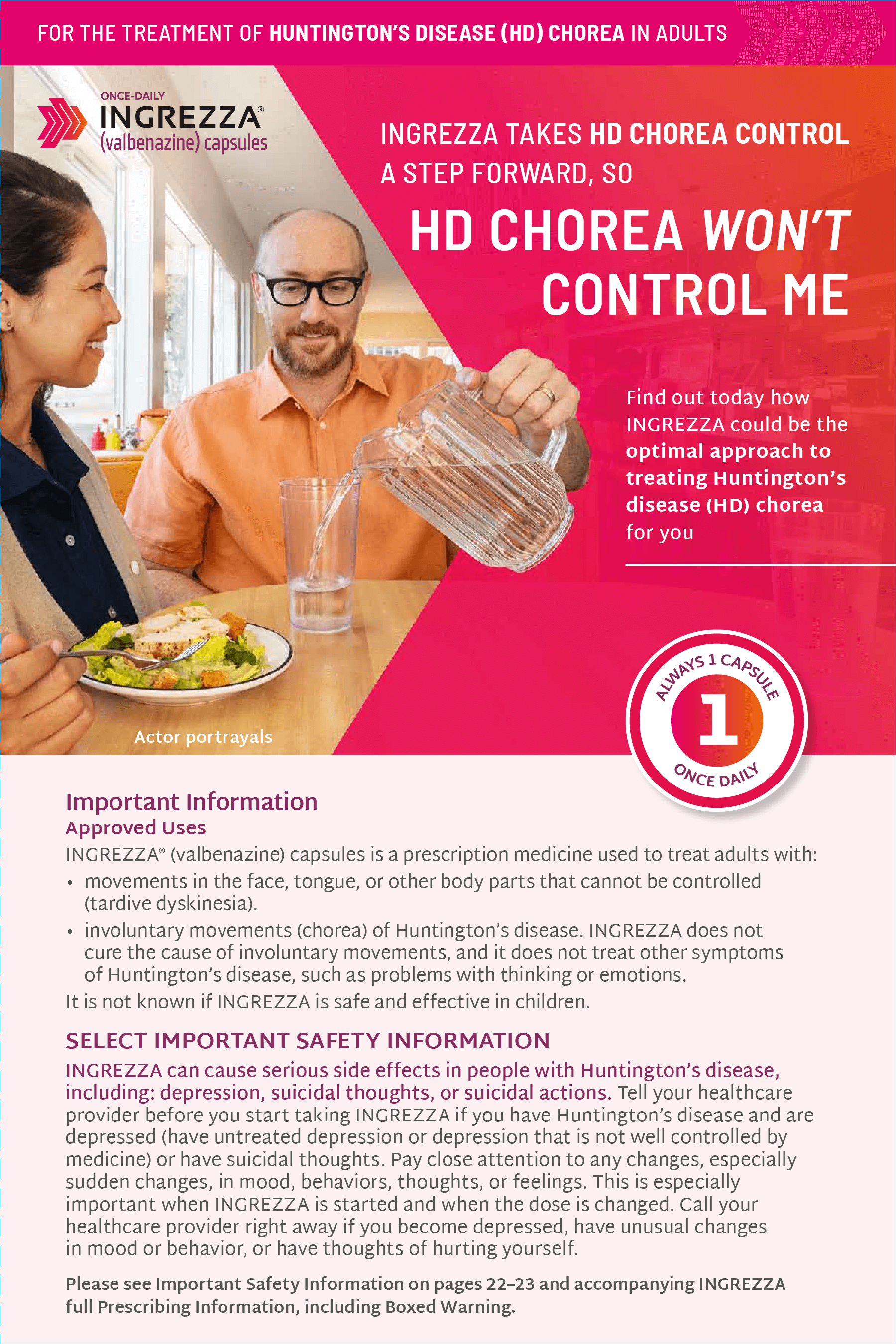 Doctor Discussion Guide
Tips for talking to a healthcare provider about your uncontrolled movements and HD chorea treatment options.
INGREZZA Treatment Guide
Learn how to start and stay on track with your treatment.
$0 copay program can make INGREZZA out-of-pocket costs for eligible patients less expensive than generics.*
* This offer is valid only for patients with commercial (nongovernment-funded) insurance. Additional terms and conditions apply.
Stay up to date: Sign up to receive emails about INGREZZA
The Doctor Discussion Guide has tips for talking to a healthcare provider about your uncontrolled movements and HD chorea treatment options.
---
For Caregivers
Huntington's disease doesn't just affect people with HD—it affects those who live with and care for them as well. Because HD is a degenerative disease, the demands of caregiving can feel overwhelming.
As you do this important work, it's important to remember to take time to care for yourself too. Taking care of yourself will help you better care for your loved one.
Self-care activities include:
Maintaining a healthy sleep schedule
Eating well
Exercising
Taking time to do something nice for yourself daily—even if it's just having a cup of tea
Doing something you enjoy
Keeping in touch with friends
Staying in touch with yourself and how you feel—don't dismiss your feelings
Caring for a loved one with HD chorea
As your loved one's HD chorea progresses, it will become more and more difficult for him or her to complete activities of daily living unassisted. At each stage, you, other family members, and your healthcare providers should have active discussions about how much supervision is necessary, and what modifications are most appropriate and helpful.
Some ways that you can help your loved one include:
Actor portrayals
Actor portrayals
Modify the home as needed and when possible, to reduce fall risks and increase independence—for instance, by installing grab bars in the shower and next to the toilet and handrails in hallways
Try to follow a consistent daily routine—this can help with memory difficulties and reduce stress
Organize the home in a way that makes sense to your loved one, especially as he/she may begin to struggle with memory difficulties
Encourage your loved one to talk with their healthcare provider about treatment options that may help control their HD chorea
---
Helpful organizations
The following organizations can provide additional information about HD, opportunities to connect with HD and movement specialists at Centers of Excellence, as well as other helpful tips and resources for patients and caregivers living with HD chorea.